ERI Teaching
General information about our courses
Each and every semester we will offer at least two Advanced Seminars in Innovation and Entrepreneurship for Master Students.
In addition to that we also offer the following lectures:
Winter Terms
Entrepreneurial Idea Development (for Bachelor students MSE only) _ WI100809
Introduction to Entrepreneurship (BSc) _ WI000801 and Part of module WI001058 (Foundations of Entrepreneurial and Ethical Business)
Entrepreneurship (Master in Management) _ WI000984 and part of module WI001185 (Entrepreneurial, Strategic, and International Management) as well as module WI900005 (Global Entrepreneurship)
Summer Terms
Entrepreneurial Idea Development (for Bachelor students MSE only) _ WI100809
+++ATTENTION+++
We provide the lecture on Introduction on Entrepreneurship (WI000801) only as a part of the module on Foundations to Entrepreneurial and Ethical Business,WI001058/WI101058. There is NO single exam on Introduction to Entrepreneurship!
Lectures & Seminars Winter 2022/2023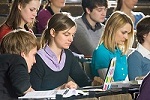 In winter 2022/2023, TUM ERI will offer following lectures and seminars. While the main target group is indicated, some courses are also availabe for other program participants. Please see TUMonline for details.
Changes are possible.
+++IMPORTANT+++
Information on course formats (online or / and in-person / hybrid) and registration procedure is availabe in TUMonline soon.
We ask you the check regularly the requirements for the course you are particpating regarding the pandemic situation.
https://www.tum.de/en/about-tum/news/coronavirus/corona-teaching-exams/
Lectures
WI000969: Entrepreneurship for Students of Information Systems: Entrepreneurship in a Digital Age
WI000984, WI900005, WI001185: Entrepreneurship
Part I of module "WI001058, WI101058: Foundations of Entrepreneurial and Ethical Business": Introduction to Entrepreneurship (LV: 0000005021)
WI001158: Entwicklung unternehmerischer Geschäftsideen (M.Sc. Sport and Exercise Science only)
WI100809: Entrepreneurial Idea Development (for BSc MSE only)
M.Sc. Seminars
MGT001308: Young Entrepreneurs in Science
MGT001325: Identifying Research Question in Entrepreneurial Management: New Technologies and Nascent Markets
MGT001341: Prototyping Entrepreneurial Ideas in New Technologies: Blockchain
MGT001349: How Digital Platforms Compete - Building and Sustaining Competetive Advantages
MGT001355: Environmental Entrepreneurship
MGT001351: Yes we can! - Empowerment as composition
WI001166: Entrepreneurial Prototyping
WIB25001_2: Entrepreneurial Role Models
WIB26001: Social Entrepreneurship Lab
WIB26995: Innovation and Organization Design
WIB271011: Venture Growth and Internationalization (Startup stakeholder management and resource acquisition)
WIB271013: Entrepreneurship through a gender lens
Other Courses
Project Studies
The goal of project studies is to gain project management experience by working on a specific topic related to a research-oriented or practice-oriented project. Depending on the research or practice orientation, requirements for written projects report differ in breadth and content.
» List of available project studies
» General guidelines
» Application form
Theses
Other Services